Our employees share their time, talent, and treasures throughout the community.
 Countless hours are spent giving back through sports, recreation, school events, civic clubs, churches, and the list goes on and on. Exchange Bank is a Community Bank that truly gives back to the community in which we live, work and play.
Exchange Bank had a busy March 2021 giving back to our community.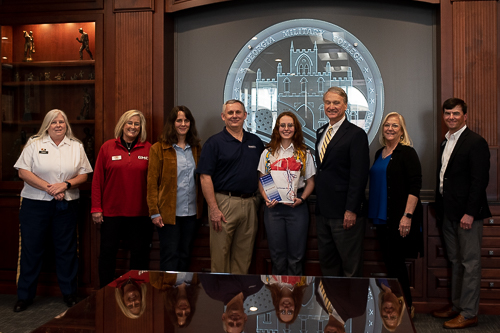 (L to R: Amy Kennedy, Col. Pam Grant, Amy Glover, Tom Glover, Stella Glover, John Childs, Terry Kennedy, Casey Washburn)
(March 29, 2021) We are pleased to announce our 2021 EXCHANGE BANK Scholarship recipient for the Baldwin County area, Miss Stella Glover. 

Stella Glover, daughter of Tom and Amy Glover, of Georgia Military Prep School was awarded this honor and received a $1,500 Scholarship to use for her college education at an institution of her choice in the State of Georgia. Stella's accomplishments include: the UGA Certificate of Merit, President's List and has been in the top ten percent of her class during her academic career. Stella has served the Baldwin County community with over 200 hours of volunteer work at Bartram Forrest and the Georgia War Veterans Home. Stella has been active in Youth Leadership of Baldwin, Senior Beta Club, National Honor Society, Spanish Honor Society, Mu Alpha Theta Honor Society, and Rho Kappa Honor Society. Stella holds the title of Battalion Executive Officer of the Second Battalion, Co-captain of the Rifle Team, and Secretary of the GMC Chapter of Junior American Legion Auxiliary. Stella's accomplishments will serve her well as she attends the Georgia Institute of Technology as she pursues a career in environmental law.

---
(L to R: Terry Kennedy, Lance Rackley, John Childs, Maggie Glover, Barbara Merritt, Chris Gibson, Kimberly Pittman)
(March 23, 2021) On behalf of the directors and officers of Exchange Bank, we are pleased to announce our 2021 Exchange Bank Scholarship recipient for the Jones County area, Miss Maggie Glover.

Maggie Glover, daughter of Chad and Mandy Glover, of Jones County High School was awarded this honor and received a $1,500 Scholarship to use for her college education at an institution of her choice in the State of Georgia. Maggie's accomplishments include: the Georgia Certificate of Merit, 4 Year Scholar Athlete, Academic Excellence and Special Recognition. She is a member of the 4-H Shotgun Team, BETA Club, FCA and plays Varsity Softball, Varsity Soccer, and Varsity Basketball. Maggie is active in her church youth group and enjoys volunteering at food banks.

---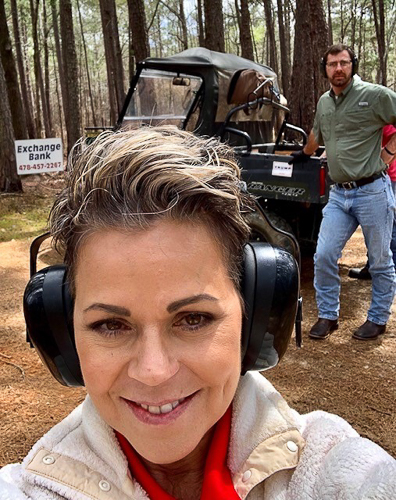 (L to R: Missy Swicord, Jonathan Pope)
(March 19, 2021) Exchange Bank was proud to participate and sponsor a team for the Sinclair Fellowship of Christian Athlete's 2021 Clay Shoot!
Exchange Bank Team Members: Eric Johansen, Missy Swicord, Jonathan Pope, and Adam Fathi
---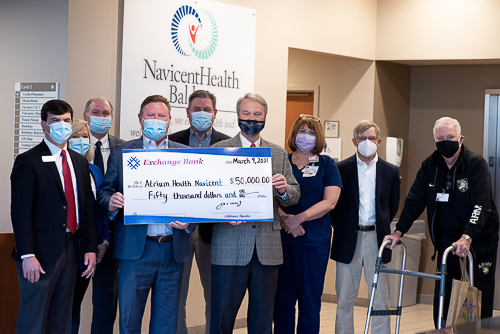 (L to R: Casey Washburn, Terry Kennedy, Eric Johansen, Todd Dixon, Paul Barkley, John Childs, Jr., Libby Fuqua, Billy Allen, Peter Boylan)
(March 9, 2021)
EXCHANGE BANK recently made a $50,000 donation to Atrium Health Navicent Hospital through the Georgia HEART program.
The Georgia HEART program helps hospitals enhance access to rural healthcare. This is done through tax credits that redirect income taxes from donors to qualifying rural hospitals.
Exchange Bank's mission is to serve our local communities. We are so proud of the incredible work Atrium Health Navicent provides to Baldwin County and are excited to have the opportunity to redirect our income tax dollars to help them continue the wonderful work that they do.
---