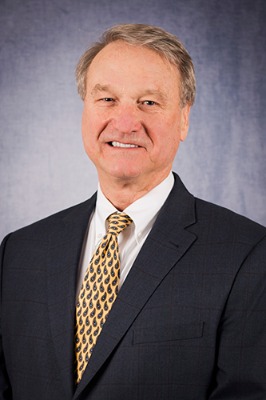 The history of Exchange Bank began almost 120 years ago. It was chartered on May 20, 1903 and opened its doors to customers on June 3, 1903. The original office was located downtown Milledgeville at 120 West Hancock Street.
Exchange Bank expanded a second location on the south side of Milledgeville on Wayne Street in 1963.
During the 1960s, the bank's Main Office was situated at 208 West Hancock Street, near the upper parking area of the bank's current location and next to where the Milledgeville Baldwin County Convention and Visitor Center is currently located.
In 1972, Exchange Bank opened a third branch in Milledgeville on the north side of town in the Milledgeville Mall parking lot. This branch debuted the very first ATM in Baldwin County in the fall of 1979. The bank marketed the ATM as the "Georgia Express." Bank photos depict the president at the time, Otto Morrison, dressed in a conductor's uniform while helping his granddaughter conduct the very first ATM transaction.
The Main Office relocated several times over the years and eventually settled at its current location at 250 West Hancock Street in December 1978. In 1989, the building was renovated to add additional office space, a training room, and a board room. Years later, in 1994, a drive-up window was completed to provide convenience to customers as the world became faster paced.
As Exchange Bank continued to grow, it expanded into the Jones County area, opening a branch in April 1998 and its Lake Oconee office in May 2004.
Exchange Bank launched its popular New Horizons Travel Club in 1995. The club started as a business development initiative for the bank and has grown over the years to be a community of customers, and friends, who enjoy the benefits of group travel all around the world.
---
To better serve customers' financial needs, *Exchange Investments Services, Inc. began operating on December 1, 2003. The investment division offers full brokerage options to customers looking for wealth management. *
Securities and advisory services are offered through LPL Financial (LPL), a registered investment advisor and broker-dealer (member FINRA/SIPC).  Insurance products are offered through LPL or its licensed affiliates. Exchange Bank and Exchange Investment Services are not registered as a broker-dealer or investment advisor. Registered representatives of LPL offer products and services using Exchange Investment Services and may also be employees of Exchange Bank.  These products and services are being offered through LPL or its affiliates, which are separate entities from, and not affiliates of, Exchange Bank or Exchange Investment Services.
Securities and insurance offered through LPL or its affiliates are: Not FDIC Insured | Not Bank Guaranteed | May Lose Value | Not Guaranteed by any Government Agency | Not a Bank Deposit
---
In March 2017, Exchange Bank of Lake Sinclair opened its doors for business. This branch is located next to the Kroger shopping center in Milledgeville. The branch was designed to be a state-of-the-art facility with the latest banking technology. 
Exchange Bank continues to be deeply involved in the community and service-minded to our customers. Bank customers often share their thoughts about their experience with Exchange Bank. Local business owner, Sheila Sanders, says, "From the moment we walked in the door, you could feel the warmth and level of customer service. Exchange Bank is the example of how a business should be."
"Exchange Bank has beautiful buildings and facilities along with innovative products and services. But it is my true belief that it is our people who make the bank. We provide much more than financial transactions-- we have a deep community spirit, and we foster personal relationships and customer trust," said John Childs, president and CEO.
Through the years, Exchange Bank has continued to thrive through depressions, wars, periods of inflation, and, most recently, a pandemic. The bank currently has four locations, two of which are in Milledgeville, then the Gray and Lake Oconee offices. Nine presidents have guided the bank since its inception:
1903-1927:  Mr. John Conn, President and CEO
1927-1958:  Mr. Otto M. Conn, President and CEO
1958-1979:  Mr. John E. Garner, Jr., President and CEO
1979-1994:  Mr. Otto C. Morrison, President and CEO
1994-1996:  Mr. William D. Hart, President and CEO
1997-2003:  Mr. M. W. "Buster" Milner, President and CEO
2004-2005:  Mr. Henry J. Pope, Jr., CEO and Bradley P. Serff, President
2005-2019:  Mr. Henry J. Pope, Jr., President and CEO
2019 to present:  Mr. John C. Childs, Jr., President and CEO

Let's build your dream home together
Building a new home to your exact specifications is one of the most exciting and rewarding projects you could ever undertake. Let us help you finance it!